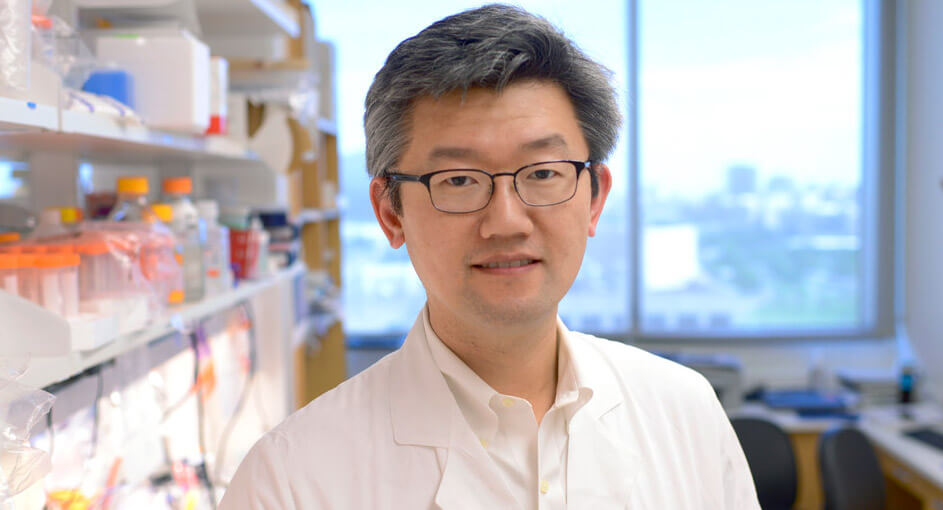 Dr. Hao Zhu spends days in his lab trying to uncover the mysteries of the liver. The physician-scientist is studying the connection between liver regeneration and liver cancer in hopes that unmasking the role of different cell types in the liver could one day lead to averting cancer in the organ or improved treatments to fight chronic liver disease, which has a poor survival rate.
"If we know a cell is more at risk of turning into cancer, then we can focus on how to limit growth of the cell for cancer prevention," said Dr. Zhu, Associate Professor with the Children's Medical Center Research Institute at UT Southwestern (CRI) and of Internal Medicine and Pediatrics at UT Southwestern.
Dr. Zhu's research efforts have led to his appointment as the inaugural holder of the Kern Wildenthal, M.D., Ph.D. Distinguished Professorship in Pediatric Research. Dr. Wildenthal, President Emeritus, served as the second President of UT Southwestern from 1986-2008. Under his leadership, UT Southwestern more than quintupled in size and emerged as one of the leading medical institutions in the world.
"It is a particular honor for Hao to receive the Distinguished Professorship given the remarkable impact that Dr. Wildenthal had on both UT Southwestern and Children's Medical Center. Hao is a fitting choice because of the innovative way he is improving our understanding of the relationship between chronic tissue injury and cancer," said Dr. Sean Morrison, Director of CRI, Professor of Pediatrics, and a Cancer Prevention and Research Institute of Texas (CPRIT) Scholar in Cancer Research.
Modern lifestyles have made liver damage and disease a more common problem for Americans, said Dr. Zhu, also a CPRIT Scholar in Cancer Research.
"Many have had the misconception that only people who drank heavily had liver problems, but now a huge number of people have liver problems because of over-nutrition, which can lead to diabetes, fatty liver disease, and cirrhosis. It's a bit like cardiovascular disease for the upcoming future – liver disease is emerging as a vexing health problem for the general population," he explained.
People with liver damage are more prone to cirrhosis and liver cancer. Cancer is rarely found in the liver without a history of chronic damage, yet researchers don't fully understand how this injury increases cancer risk.
Because the liver can regenerate, however, Dr. Zhu wants to better understand how regeneration might promote or suppress cancer development.
One of the projects Dr. Zhu's team is working on involves using genetic screens to discover new pathways that can augment the ability of the liver to heal itself. Researchers now have the ability to examine hundreds of genes to identify the ones that are critically important for tissue regeneration. The Zhu lab will try to find out if enhancing liver healing and regeneration will reduce cancer development.
His team is also closely studying the special case of polyploid cells – large cells with multiple copies of the genome – that occupy 50 to 80 percent of the liver. Researchers believe these extraordinary cells regenerate like normal cells but are protected from getting cancer. Dr. Zhu is investigating if the cells can be exploited for liver cancer prevention.
Continue reading at the Center Times.