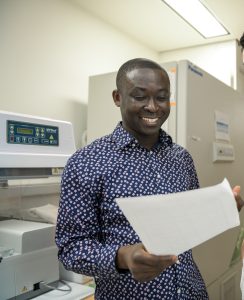 Edward Owusu Kwarteng's, Ph.D., interest in hematological research began while volunteering at a medical diagnostic lab in his home country of Ghana. There, he saw firsthand how disorders like sickle cell disease, anemia, and hematologic cancers affected the lives of others. This experience motivated him to pursue a scientific career in hematology. Since then, Dr. Owusu Kwarteng has worked and studied in four countries across three continents to pursue his goal, including CRI, where he currently works as a postdoctoral fellow in the Agathocleous lab.
His research efforts were recently recognized with a highly competitive Minority Hematology Fellow Award from the American Society of Hematology (ASH). This award encourages early-career researchers from historically underrepresented minority groups in the U.S. and Canada to pursue a career in academic hematology. As part of this grant, he will receive $100,000 over a two- to three-year period to study the metabolism of hematopoietic stem cells (HSC). Through the program, he'll also be offered mentorship from members of ASH, the Center for International Blood and Marrow Transplant Research, and the American Society for Transplantation and Cellular Therapy.
"ASH is a prestigious organization, and I'm honored to have been selected," said Dr. Owusu Kwarteng. "Receiving an award from them highlights the importance of my research focus and will give me protected time to thoroughly investigate glucose metabolism in HSCs and other hematopoietic cells. I aspire to open my own lab after completing my postdoctoral fellowship, and the training I'll receive in this program will be instrumental in helping me achieve this."
Michalis Agathocleous, Ph.D., an Assistant Professor in CRI and Dr. Owusu Kwarteng's mentor, said, "Edward is an incredibly motivated and committed scientist. I believe his proposed work will have far-reaching implications for both the hematopoiesis and metabolism fields."
Ultimately, Dr. Owusu Kwarteng hopes to find or contribute to treatments of sickle cell anemia and other anemias arising from hematological disorders and infection.