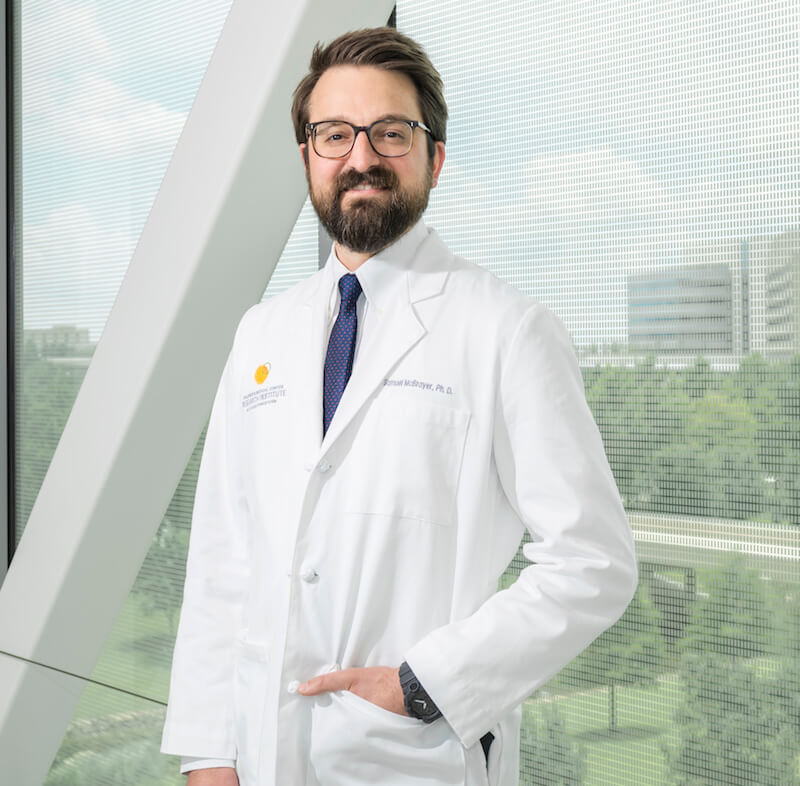 Sam McBrayer, Ph.D., an Assistant Professor at Children's Medical Center Research Institute at UT Southwestern (CRI) and an Assistant Professor of Pediatrics, is one of six winners of the 2021 Distinguished Scientist Award, presented by the Sontag Foundation. The award is given annually to extraordinary scientists with the potential to make a significant impact in the field of brain cancer research.
"The generous support of the Sontag Foundation will accelerate our research and allow us to pursue innovative, high-yield approaches to studying how altered metabolism promotes brain cancer development and progression. It is a true honor to receive the Distinguished Scientist Award and join the remarkable group of past awardees who have made an indelible impact on the brain tumor research field," said Dr. McBrayer, who is also a member of the Harold C. Simmons Comprehensive Cancer Center.
The McBrayer laboratory focuses on understanding how changes in metabolism control cell fate and cell function in the setting of brain cancer, particularly for gliomas. A significant portion of gliomas are driven and initiated by mutations that affect IDH genes. These genes encode metabolic enzymes and cause profound metabolic reprogramming when acquired in brain tumor cells. One of the major roadblocks to understanding how changes in metabolism influence cancer risk is the lack of genetically engineered mouse models that are driven by alterations in metabolism. To address this roadblock, Dr. Brayer's laboratory recently developed a new mouse model of brain cancer that is driven by an IDH mutation. This model creates new opportunities to dissect the molecular changes that link altered metabolism with brain tumor formation.
"We're hoping this new model will help us address a critical unmet need for new brain tumor therapies," said Dr. McBrayer, a Cancer Prevention and Research Institute of Texas Scholar and an Abeloff V Foundation Scholar. "Essentially, standard of care for brain tumor patients hasn't changed since 2005. The new insights that we're gaining into the altered metabolic state of these brain tumors will point the way to new therapeutic targets and ultimately allow us to develop more effective therapies. This work would not be possible without the Sontag Foundation's generous support."
Dr. McBrayer and the other winners will receive $600,000 each to support their research and join past awardees at a scientific summit in February 2022 hosted by the Sontag Foundation.
"Fighting brain cancer is personal for my family. This year marks the largest cohort of grantees we have funded since our inception in 2002. This is particularly impressive, given most of this year's awardees started their labs during the height of the pandemic. We are proud to welcome these exceptional early career researchers into our scientific community," said Rick Sontag, President of the Sontag Foundation.
To learn more about The Sontag Foundation, visit the website at sontagfoundation.org.