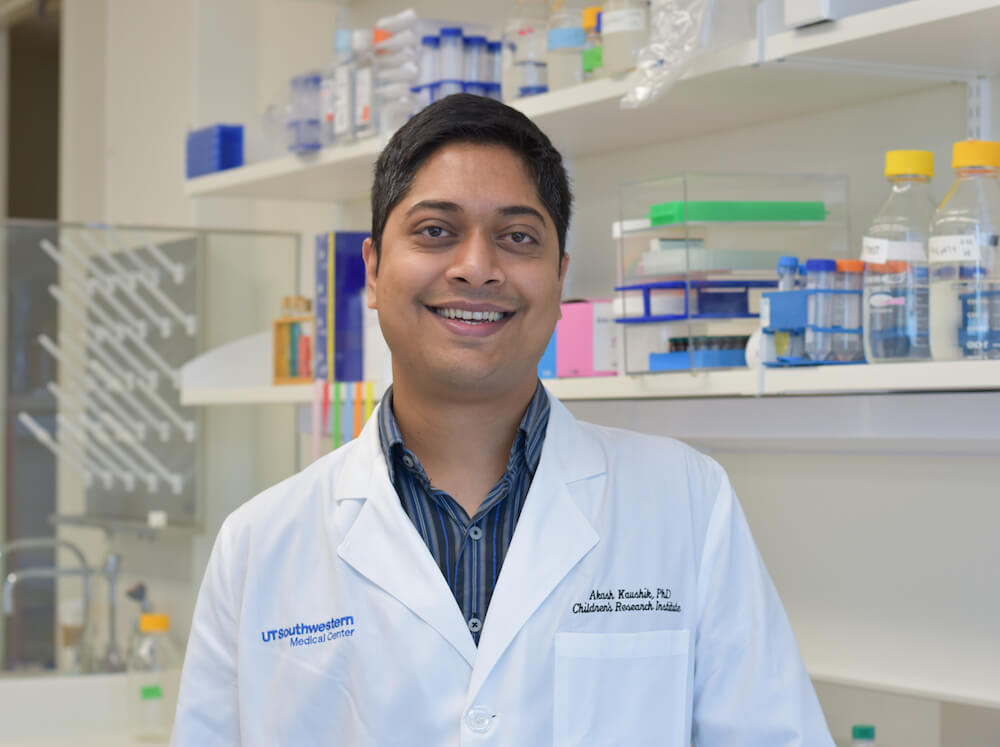 Dr. Akash Kaushik, a postdoctoral researcher in Dr. Ralph DeBerardinis' lab at the Children's Medical Center Research Institute (CRI) at UT Southwestern recently received a Young Investigator Award (YIA) from the Kidney Cancer Association for his research on renal-cell carcinoma — the most common type of kidney cancer. The YIA, which is bestowed upon physicians and scientists whose investigation focus is in urology or clinical oncology, will help Dr. Kaushik continue his research with a $75,000 grant.
"I'm incredibly thankful for the support from the Kidney Cancer Association and my mentor, Dr. Ralph DeBerardinis. This award validates the importance of my research and will help me transition into an independent investigator in the future," said Dr. Kaushik.
Dr. Kaushik's work is focused on the amino acid glutamine — a major source of energy and growth for some cancer cells. His research has led to the discovery that patient-derived tumors grown in the kidneys of mice use glutamine to drive important cellular processes like the Krebs or tricarboxylic acid (TCA) cycle, which is required for the growth of cancer cells.
Importantly, they found inhibition of glutamine metabolism with CB-839, a glutaminase inhibitor currently being evaluated in multiple clinical trials, resulted in decreased contributions of glutamine into the TCA cycle in mice and reduced tumor growth.
"We know that kidney-cancer metabolism differs from the normal kidney, but so far, we haven't been able to exploit these differences to treat kidney cancer. Akash's work has uncovered several potential metabolic vulnerabilities in kidney tumors, and the new funding will allow him to test whether inhibiting these pathways suppresses tumor growth," said Dr. Ralph DeBerardinis, the director of the Genetic and Metabolic Disease Program at the CRI.
Next steps for Dr. Kaushik and his collaborators — including other members of the DeBerardinis lab and Dr. James Brugarolas, the director of the Kidney Cancer Program at UT Southwestern — are to investigate the role of glutamine metabolism in kidney cancer directly in patients who have the disease. They are hopeful that their results will help in the redesign of clinical trials investigating CB-839.